Combined Sinus Grafting and Lateral Augmentation by a Hyaluronic Acid- Facilitated Guided Bone Regeneration Protocol – Case Series Supported by Human Histologic Analysis
Literatuur overzichtAnton Friedmann 1*Werner Goetz 21 Department of Periodontology, School of Dentistry, Faculty of Health, Witten/Herdecke University, Germany2 Department for Orthodontics, Friedrich-Wilhelm-University Bonn, GermanyAbstractGuided Bone Regeneration (GBR) is a well-established
Anton Friedmann 1*

Werner Goetz 2
1 Department of Periodontology, School of Dentistry, Faculty of Health, Witten/Herdecke University, Germany

2 Department for Orthodontics, Friedrich-Wilhelm-University Bonn, Germany
Guided Bone Regeneration (GBR) is a well-established procedure for the regeneration of alveolar bone defects. In the case of highly complex defect situations, however, inconsistent treatment results are often achieved. Hyaluronic Acid (HA) fulfills several relevant preliminary success criteria for improved regenerative treatment outcomes in complex defects: HA supports the creation of a toxin-free wound area, HA improves wound space stabilization, accelerates wound healing and supports regenerative processes crucial for bone regeneration. The novelty in the reported cases is the use of porcine derived bone substitute particulate hydrated with a cross-linked hyaluronic acid for simultaneous sinus grafting and lateral/vertical ridge augmentation in combination with a ribose cross-linked collagen membrane.
The approval of the feasibility is provided with the clinical and histological observations. Three consecutive cases received the abovementioned material combination for staged sinus floor elevation and additional augmentation procedure by one operator according to a standardized protocol. All three sites constantly demonstrate superior clinical outcomes in terms of radiographically impressive tissue enhancement and implant function. The clinical outcomes are supported by qualitative histological analysis refl ecting great similarity between samples regarding the observed process of new bone formation and bone substitute behavior. The specific staining allows for detection of osteoclastic activity and indicates the tendency of the particulate bone substitute to degrade over time once integrated.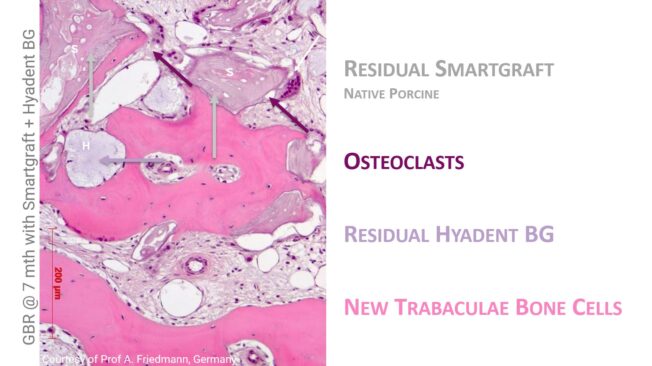 Within the limits of this short case series, we conclude that the adjunct use of Hyaluronic Acid (xHyA) in GBR and sinus grafting protocols support the creation of a pathogenfree wound area, improves wound space stabilization, accelerates wound healing and supports regenerative processes for bone regeneration.
This potentially results in an accelerated process for new bone/tissue formation accompanied by a higher turnover-rate of substitute material. Therefore, the proposed biomaterial combination presents apparently symbiotic qualities and fulfi lls several pre-success criteria crucial for facilitating superior regenerative outcome particularly in complex defects.
Do you want to download the complete scientific article in .pdf format? Leave your name and e-mail address.
You will receive a confirmation email with the link to download.
Meer wetenschappelijke literatuur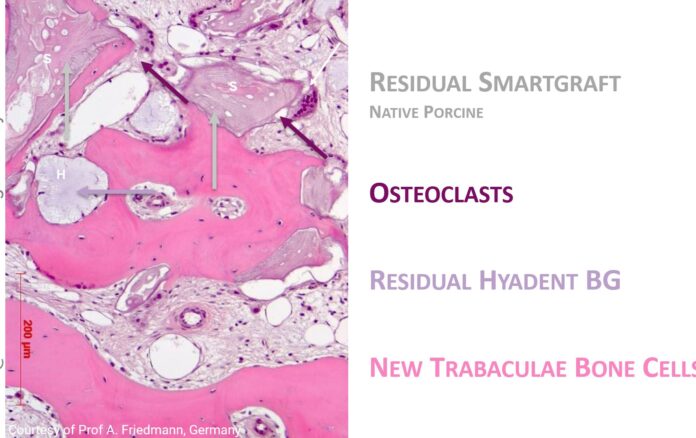 Combined Sinus Grafting and Lateral Augmentation by a Hyaluronic Acid- Facilitated Guided Bone Regeneration Protocol – Case Series Supported by Human Histologic Analysis
Minimally invasive management of implant-supported rehabilitation in the posterior maxilla (Part I). Sinus floor elevation: biologic principles and materials
Two-stage crestal sinus elevation by sequential drills in less than 4mm of residual ridge height: a clinical and histologic case report